Do you want to know where you can buy Swing dance shoes? Then we have some good news for you. There is a lot of choice nowadays. Online shops that sell swing dance shoes have been popping up like crazy the past five years. This is why we can now provide you with quite an extensive list on where you can buy your dance shoes.  Read the article 'Dance shoes for Swing dancers' first if you'd like to know what you should pay attention to when you choose your perfect dance shoes.
Good to know: In The Netherlands I wear a shoe size 40 for 99% of all my shoes. I will let you know which size I ordered and how they fit.
My top 3 swing dance shoes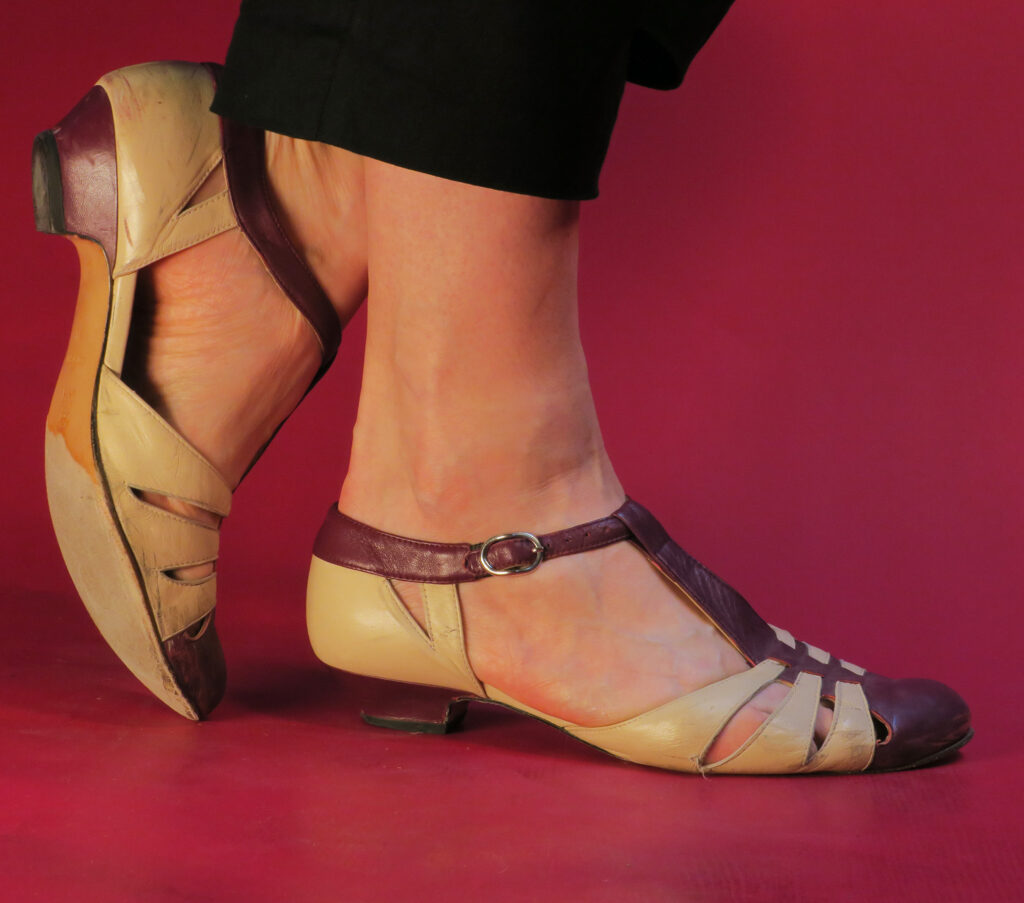 Madame Dynamite
This Spanish brand has beautiful shoes with different heels heights. The quality is good and they are very comfortable. A definate plus is that they also offer vegan options. I ordered a size 40 and they fit like a glove. Prices are around €150.
www.madamedynamite.es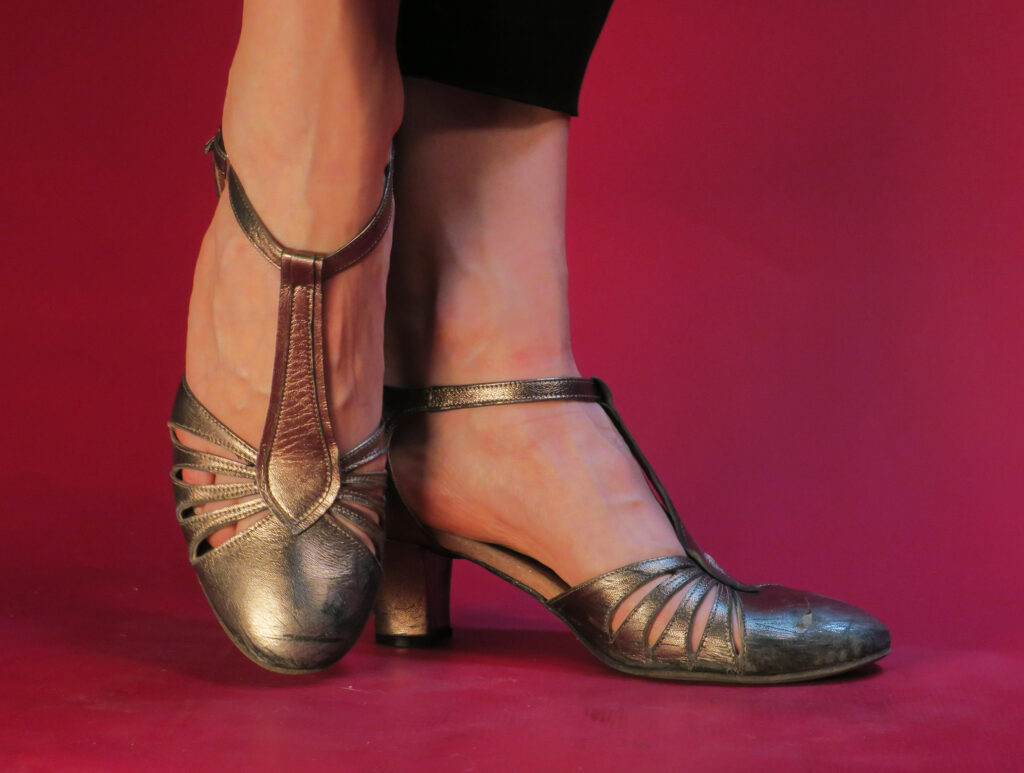 Rumpf
One of my favourite pair of dance shoes are from Rumpf (Rumpf Premium Line Damen Tanzschuhe 9210). They are very comfortable, the heel is not too high and I find them very pretty. These are not custom made shoes like some of the other brands. However, the price is very reasonable. They go for about €105.
www.rumpf.net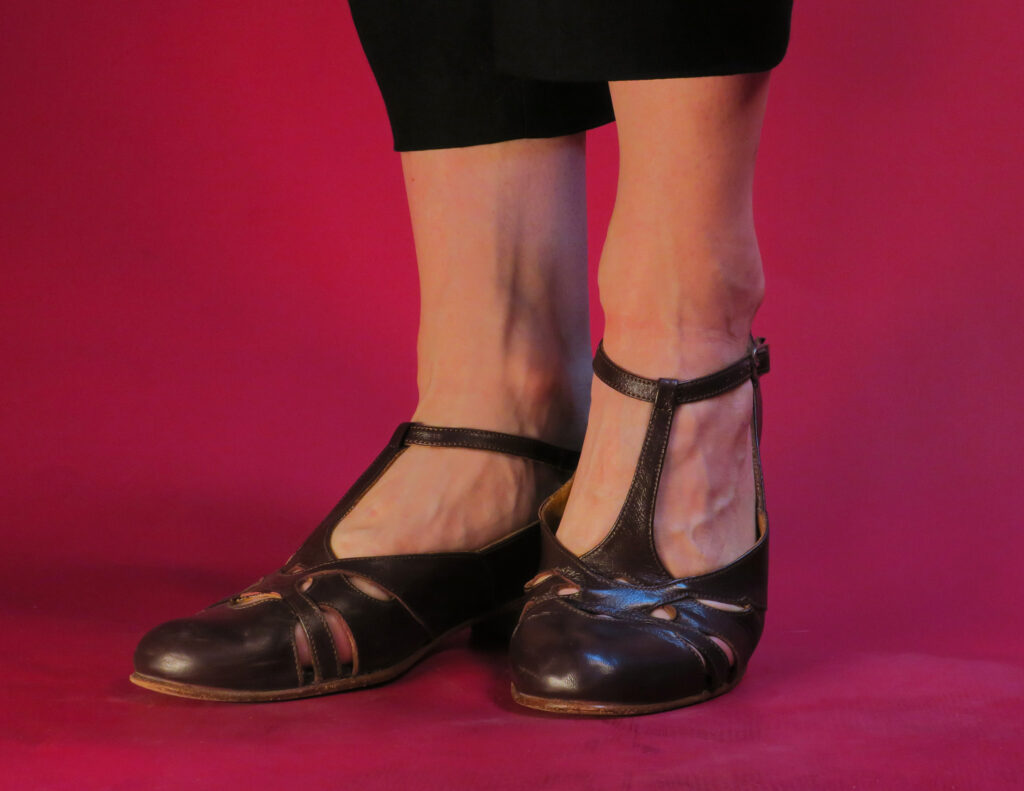 Harlem Shoes
I have two pair of Harlem Shoes (size 40); one of which I wear regularly. They are flat, sandal-like dance shoes that fit like a glove. At Harlem Shoes they custom make your shoes to your size. You can choose the colours, material and height of the heel, all to your own liking.
If you like to order a pair of Harlem Shoes, you can use this promotion code for 10% discount on your order: #deirdre. The prices of these shoes are around €130.
www.harlemshoes.com
Other swing dance shoe shops
Of course I didn't try every swing dance shoe that was ever made. There are many more great shops with a beautiful collection of dance shoes for swing dancers. Some of them I've tried. Below I'll share my experience with you.
Aris Allen
My first pair of dance shoes was from the Aris Allen; an American brand. The price of these shoes are quite low: around 25 to 90 dollar. It sounds cheap, but please consider that you also have to pay transport and import fees (at least in The Netherlands). The quality is also not very good, although I must admit that my pair did last three years or so.
www.arisallen.com
Saint Savoy Shoes
This brand is around for a while now and Oh LaLaa, how I would love to have a pair of their beauties in my collection. I once owned a pair of Saint Savoys, but they kept giving me blisters. So I decided to sell them and make someone else happy. Their shoes are beautiful and the quality is very good. They could give you years of dance pleasure. I big downside (for me at least), is the pricing. Most Saint Savoys cost around €220.
www.saintsavoy.com
Swivells
The Portuguese brand Swivells mostly sells flat dance shoes at the moment. I own two pairs with heels, but they don't sell them anymore. The prices of their shoes are around €180.
www.swivells.com

Slide & Swing
Another great Spanish Swing shoe supplier with a collection of dance shoes with low or high heels is Slide & Swing. They regularly have a sale, which makes the price a lot more attractive. Normally a pair costs between €125 and €170.
www.slideandswing.es
Volare Luxury Dance Shoes
This is a quite new supplier of Swing dance shoes and I must admit that I have no experience with their shoes yet. The company is based in the US and sells handmade shoes on Etsy. The price: €175 (including transport).
etsy.com/shop/volareshoes
BounShoes
discovered this Italian brand on Instagram. They make beautiful shoes in both flat and heel versions. Personally I really like their Candy model in gold. I ordered a pair in size 40, and they fit like a glove (even a tiny bit on the wide side). If you use the special discount code deirdre10rott you will get 10% discount. The price: around €115.
www.bounshoes.it
All Heels On Duty
The shoes of this company are made for World War II re-enactment. They offer very solid looking Oxford shoes in different colors. Thanks to the hard leather soles they are also suitable for Swing dancers. The price is around 165 pound.
www.allheelsonduty.com

Keds
A dance sneaker that is often worn by swing dancers are the ones from Keds. Een door Swingdansers veelgedragen sneaker is Keds. I have also worn several pairs myself. They are comfortable and you can easily stick duct tape or a sole underneath (see the article Dance shoes for swing dancers). If you dance regularly you will see that they wear out quickly. I bought a new pair at least once a year. You buy them from various online stores and the price is around €50.
www.keds.com
Toms
You see Toms more and more in the Swingscene. Especially Lindy Hoppers wear them. They are lightweight shoes that close around the foot and seem to be very comfortable. I don't like them very much myself (sorry), so never tried them. You buy them for approx €45.
www.toms.com
Any more questions or suggestions?
In short: I hope this article helped you on your way in your search for where to buy swing dancing shoes. Please also check out our article about what to pay attention to when buying swing dance shoes.

If you have any more questions about where to buy swing dance shoes, or suggestions for shops to include in this list, please let me know in the comment below.
Good luck finding your perfect pair!